For decades, Dubai has been the go-to destination for tourists worldwide. And this city attracts tourists every year because it is simply – beautiful. With a rich multicultural heritage, lush green parks, stunning beaches, and enormous parks, Dubai has a lot to offer to the people who visit it every year. Lately, the city has made another addition to its collection of tourist attractions. This 150-meter high and 95-meter-wide structure, known as Dubai Frame, was built in 2018.
Overview
As the name suggests, Dubai Frame resembles a massive picture frame. From one side of the Frame, you can see the more modern look of Dubai by looking at buildings, such as Burj Khalifa and Emirates Towers. From its other side, you can witness the antique look of Dubai by looking at the areas such as Karama and Deira. The design of the Frame inspired the logo of Dubai Expo2020. This Frame holds the Guinness record for being the most prominent picture frame.
Where is the Dubai Frame?
The spectacular landmark of Dubai Frame is located in Zabeel Park, Dubai. Building the Frame in Zabeel Park was indeed a vital strategic decision. This park is one of the oldest in Dubai, in the middle of the city's urban landscape. Another important fact about the Frame's location is that it is near Dubai Creek. This allows you to enjoy a spectacular view of Abras on the nearby creek water and a glimpse of the Arabian Gulf.
Who Built Dubai Frame?
It was built by Fernando Donis, a well-known architect based in the Netherlands. His design for creating a Tall Emblem Structure in Dubai was selected from the 926 submitted proposals in the 2009 ThyssenKrupp Elevator International awards. For his proposal, Donnis got an award prize of $100,000. This iconic landmark's construction began in 2013 and was completed in 2018.
Is Dubai Frame gold plated?
Although the basic structure is built of aluminum, steel, and glass, its exterior is gold-plated. While looking at it at certain angles during sunset, you can see the structure radiating its rich and alluring golden hue. The golden claddings on the building are crescentic and circular and resemble the designs of Dubai Expo 2020.
How many stories is the Frame in Dubai?
With 50 stories, it stands 150 meters tall. While inside, don't forget to visit the horizontal glass sky deck from where you can get a 360-degree view of Dubai. At the ground level, the structure has a museum containing various 3D exhibits that give visitors a glimpse of the transition of Dubai from an old desert village to an ultra-modern tourist sensation. A Future Gallery also allows you to visualize the city's appearance by 2050. You can imagine the hyperloop, flying taxis, D buildings, robots, and drones carrying out all the tasks.
While it looks like a magnificent golden sculpture from the outside, the insides also present the same splendor to its visitors. In this part of the guide, you will take a look at each of the different sections in detail: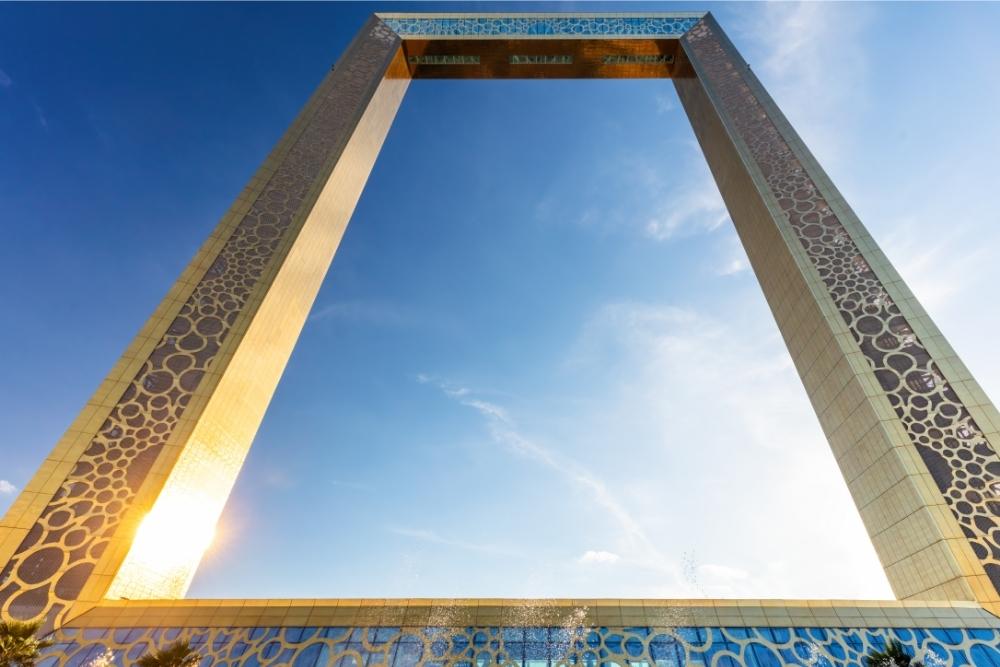 The Museum at Mezzanine
The Frame has the Old Dubai Gallery on its mezzanine floor, which presents you with the city's past by looking at different multimedia exhibitions. You will feel all of your senses coming to life as you witness the transition of Dubai from a small, old-fashioned fishing town to the large and bustling metropolis it is today.
The Sky Deck
While heading towards the Sky Deck level from the mezzanine, you will get a chance to capture a glimpse of ancient Dubai to the north of the Frame while modern Dubai will be in the South. Using augmented reality and activated screens, you will witness the transition of Dubai through the decades.
The Future Dubai Gallery
On either side of the mezzanine floor, the Vortex Tunnel is present, which leads you to the Future Dubai Gallery. Here, you can see what Dubai will look like in the upcoming decades. Your tour will be incomplete without visiting this Gallery.
Things to See
Aside from seeing Dubai's past and future, it would be best if you did not forget to take the elevator ride to the skywalk above. After spending a terrifying 75 seconds in the elevator, you'll reach the skywalk, a glass bridge at 150 meters above the ground. The glass bridge provides breathtaking views of the city. Here, you can capture pictures and make memories along with feeling the adrenaline rush by looking through the transparent glass bridge at 150 meters.
Things to Do
Apart from visiting exhibits and galleries, you can also:
Visit Dubai Frame garden
Explore the souvenir shop
Fulfill your tastebuds' desire by experiencing different culinary options
Enjoy a healthy and adrenaline-filled breakfast at Dubai Frame's Skydeck
How Much Time to Spend in Dubai Frame?
The best way to enjoy it is to spend at least an hour and a half. With this timeframe, you can enjoy every aspect of the Frame thoroughly.
How to Visit?
You can visit using three different ways i.e.
Take the Red Line Metro service to Al Jafiliya Metro Station and walk to Gate 4 of Zabeel Park. This gate is also famous as the Star Gate.
By using Moovit to find the most accessible bus route to reach here, and
By setting the destination to Gate One of Zabeel Park in your car's GPS
Moreover, you can also utilize metro services from Dubai International Airport to reach here. Line Bus 33 takes around half an hour to drop you off at the Frame, while taxis provide a convenient conveyance of about ten minutes to Dubai Frame.
What is the Best Time to Visit?
The official timing for visiting Dubai Frame is from 9:00 AM to 9:00 PM. However, if you want to enjoy the stunning beauty of Dubai Frame thoroughly, then you should look forward to visiting it during morning hours (10:00 AM – 12:00 PM). It is best to see it from 5:00 PM to 8:00 PM, especially during sunset. This is because, during this time, you can get a 360-degree view of the city from Skydeck. While visiting Dubai Frame during these times, do not forget to enjoy the breathtaking view of Dubai's skyline.
How Much does Dubai Frame Cost?
The ticketing prices for Dubai Frame are as follows:
For adults, the ticket costs around 50 AED
The ticket cost for children from ages 3-12 is AED 20
You can also get free access to Zabeel Park at this price.
How to Get Dubai Frame Tickets?
Three options are the most feasible if you consider buying tickets for Dubai Frame. These include buying the ticket at Zabeel Park's main entrance via the Dubai Frame website or through Dubai Frame mobile app.
Is Dubai Frame Worth Visiting?
Absolutely yes! If you are in Dubai or if you are planning your visit there and you cannot seem to figure out the way to spend your upcoming weekend, try visiting Dubai Frame. This landmark destination of UAE provides you with the perfect chance to spend your weekend in the best manner. Go alone if you want to spend quality time with yourself, or take your family (or friends) if you want extra fun.
So whenever you think you are ready, grab your gear, pack up, and leave for the world's most considerable and iconic fame. Meanwhile, ensure that you do not stuff your backpack too much to avoid hassle at the security checks.
How much did the Frame in Dubai cost?
Dubai Frame had its first opening in January 2018. It cost AED 230 million for the whole project.
What was the Purpose of the Dubai Frame?
It was designed to work as a bridge that connects Dubai's rich past with its glorious future. Its primary purpose was to welcome the upcoming Dubai Expo 2020. However, the expo was canceled due to the Covid-19 pandemic and was held later in 2022.
Takeaway
The popularity of Dubai Frame is evident from the fact that in the first year of its opening, around a million people flocked in to view this stunning masterpiece. Since then, it has become a popular go-to spot for tourists and locals. So, if you are planning to visit Dubai any time soon, do not forget to pay a detailed visit to this iconic landmark of heritage and technology, the witness of Dubai's glorious past and the harbinger of its golden future.